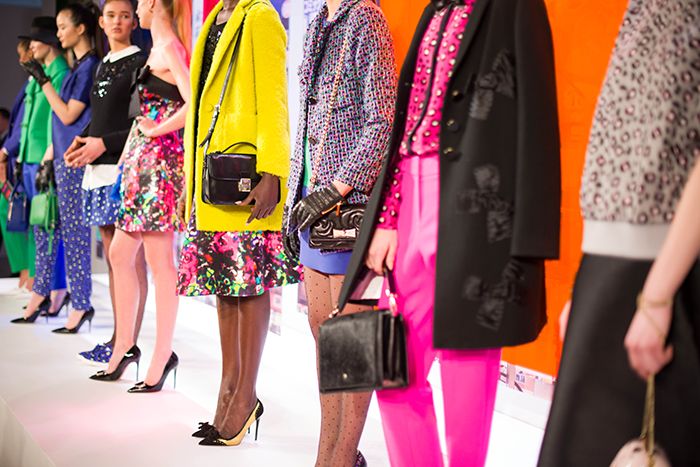 Fashion week is always an exciting time. It's when designers, editors and fashionistas all come together for the common love of fashion. Everyone eagerly anticipates the beautiful silhouettes, luxurious fabrics and colors that will be trending in the days ahead. Of the many collections shown during New York Fashion Week, here are the ones that left the biggest impression on us. J Crew is the perfect marriage between classic and modern. We love their genius mix of patterns, layers and color pallets. The reoccurring pairing of white and black in this season's collection has stood out to us along with the abundance of floral patterns.
Kate Spade is always a breath of fresh air with structured, sophisticated lines and girly whimsy. We are used to her designs living up to her slogan "live colorfully" being full of color and vivid brights, but we are loving this collection of neutrals that screams Audrey Hepburn.
Tory Burch always wows us with her simple, yet elegant designs. This season she incorporated a little medieval flare into her collection. We especially love her shirt dresses, over the knee boots and knee highs.
This season's Michael Kors collection falls nothing short of luxurious, dramatic, and romantic. The flowy fabrics, pleated skirts, and fur are perfection. We are happy to see that fur will be a trend that is not going away any time soon.
Rebecca Minkoff's designs are always cool, fashion forward, and city-chic. She prides herself in creating clothing that is stylish and statement worthy, yet wearable. She accomplishes her goal with this season's street-friendly metallics and edgy details.
NYFW never ceases to inspire its audience. Year after year designers wow us with new concepts and innovative designs. The fashion seen on the runways doesn't always align with Top Button's vision. In the midst of plunging necklines and rising hemlines, we are here to take designs and allow them to inspire us to find similar articles of clothing that are modest and wearable without compromising our values.
What were some of  your favorite collections from this season? Let us know in the comments below. We can't wait to hear from you!
Happy Styling,
*Images via Pinterest