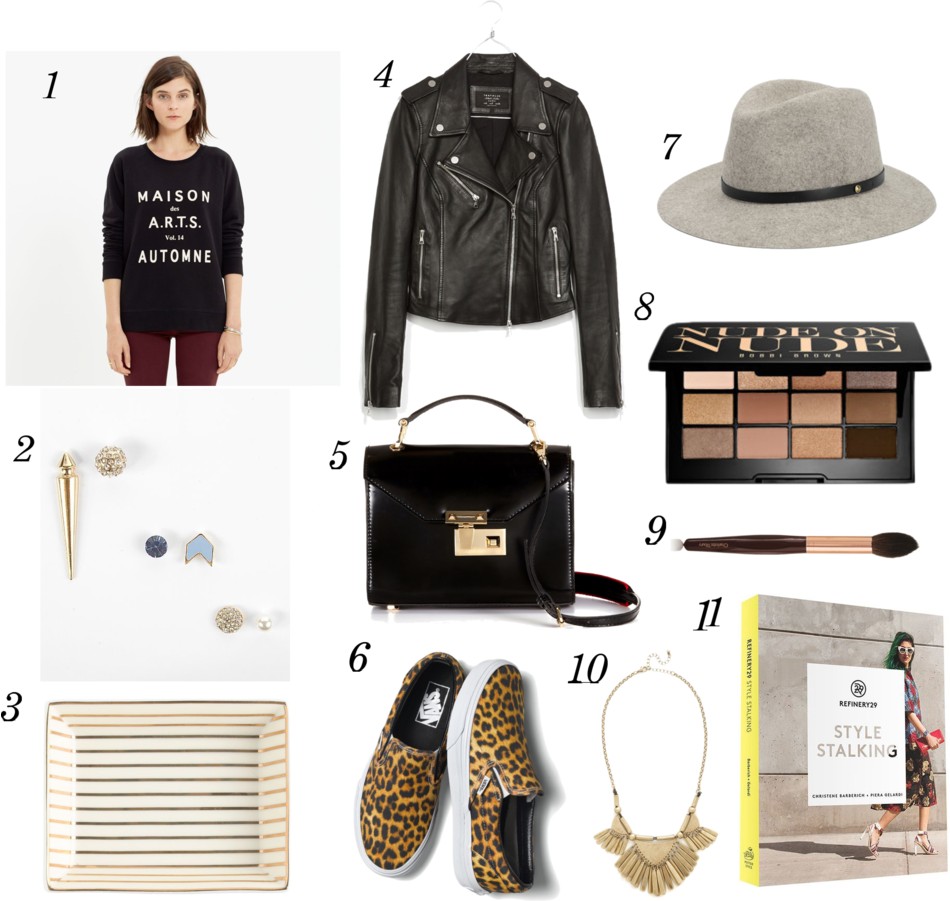 Fall is on its way and I couldn't be happier. The colder months are approaching and I'm already daydreaming of chunky sweaters, hot chocolate and cozy nights by the fireplace. Here are a few items that I've got my eyes on! 1. I am a huge sweatshirt fan, especially if it has a french saying on it! This Madewell sweatshirt is not only comfy but, stylish enough to wear on an afternoon out with the girls.
2. Mismatched earrings are high up on my must have list for Fall. These earrings from Buckle are edgy, fun and can be styled  several different ways.
3. You can never have enough white and gold in my opinion. I love this J Crew jewelry tray! It's perfect for displaying and organizing my jewelry.
4. I'm a huge fan of leather jackets, they are one of my closet staples. This Zara jacket is ultra edgy and chic.
5. Crossbodys are a girls best friend. They are comfortable and easy to wear no matter where your day takes you. This Rebecca Minkoff is sleek, modern, and classic.
6. I love statement shoes probably just as much as I love a good statement necklace. These leopard Vans are sure to spice up any outfit.
7. Hats are the icing on the cake! This floppy rim fedora from Rag And Bone just screams FAll to me.
8. Neutral eyeshadows are a great foundation to your makeup collection. This Bobbi Brown "Nude On Nude" palette contains twelve gorgeous eyeshadow colors that can be worn day or night.
9. Quality brushes are key to applying your makeup like an expert. This Charlotte Tilbury Powder and Sculpting Brush is excellent for applying highlighter as well as chiseling out your cheekbones with your favorite bronzer.
10. Chunky necklaces are key for Fall. This Modcloth gold necklace is the perfect companion to your favorite sweater.
11. Chilly Fall days call for curling up with a good book and your favorite hot drink. I'm excited for the October launch of Refinery 29's new book Style Stalking. It's promised to be chock full of fabulous street style.
What are your Fall obsessions? Let us know in the comments below!
Happy Styling,