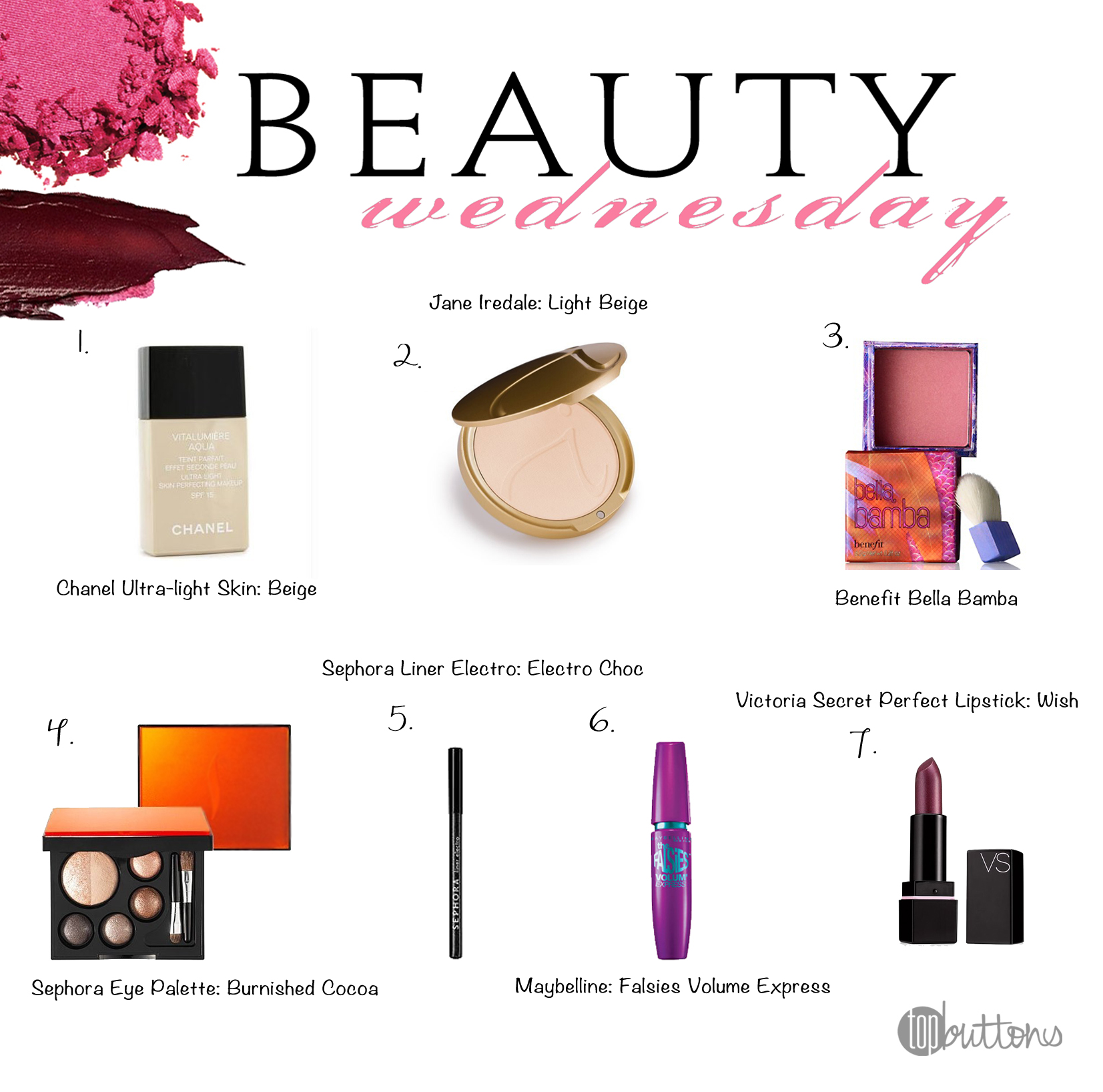 Without letting makeup define us, one thing we should remember as young women is that it doesn't take a smattering of makeup to accentuate our features. By applying just enough makeup to highlight beautiful brow lines, cheek bones, eye shapes and lips, we can capture both a polished and natural look in our daily makeup routines. I used Emily, our Top Buttons fashion editor, in order to illustrate a classic every day look that anyone can have using the products they own at home. All of the products used in this video were products that Emily already owned.
These products include
1. Liquid Foundation: Chanel Ultra-light Skin: Beige.
This foundation makes for a clean palette and it can be used in order to cover up blemishes, discoloration and refine the look of skin.
2. Powder foundation: Jane Iredale: Light Beige
Powder foundation is brushed lightly over liquid foundation to reduce oiliness in skin and prevent smearing.
Blush can double as both a contour and an additional tone/hue for lighter skin tones. This blush can liven up your appearance as well as add some  shimmer to your overall look.
Make sure to evenly dust the apples of your cheeks while pulling the color out, at a slight angle, toward your hair line.
4. Eye shadow: Sephora Eye Palette: Burnished Cocoa
These neutral, shimmer tones are warming for any eye color. They add subtle contouring effects while also opening up your eyes.
First brush lighter tones over the lid of the eye, then fill the crease of the eye with darker tones of the same color family.
5. Eyeliner: Sephora Liner Electro: Electro Choc
Eye liner, especially soft pencil liners, really accentuate the size and angle of the eye. By subtly lining above the lash line you can define and compliment any eye with any color.
6. Mascara: Maybelline: New York The Falsies Volume Express
Mascara can always add natural looking length to your lashes if you know how to use it. Instead of lathering your lashes with product, gently pull the mascara brush through the lashes just enough to fan out the length of the lashes.
7. Lipstick: Victoria Secret Perfect Lipstick: Wish
Lipstick will always add a dash of color and maybe even a little spice to your life. Thankfully, lipstick is pretty straight forward and easy to apply. As long as you fit the lipstick stick to the curves and angles of your lips you will be ready to rock either a bold or subtle look, depending on your preference of color.