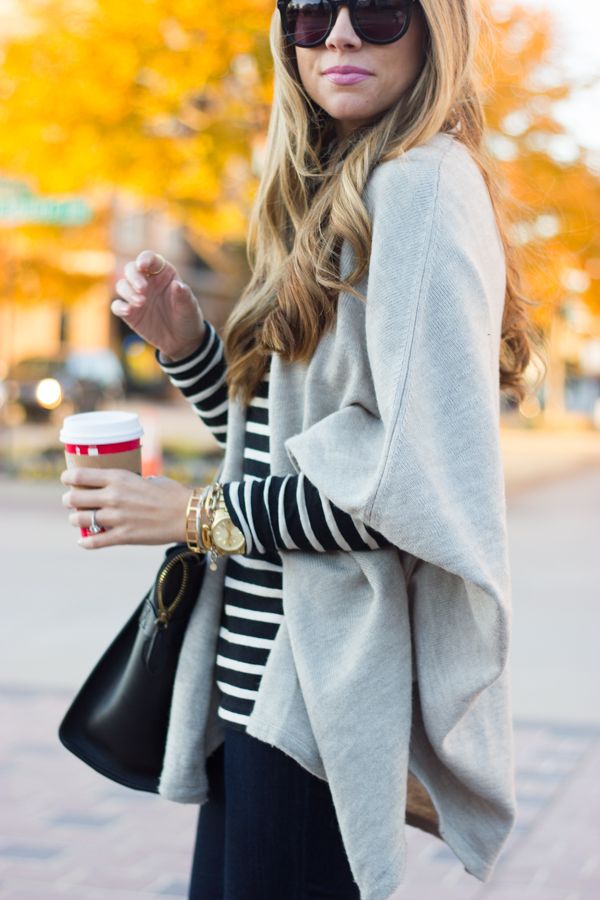 What if you could leave the house draped in a cozy blanket and be right on trend? Well, you can! This season's most loved item is the sweater poncho. It's comfortable, warm, and chic all at once! Here are a few ways to style this fall essential. Casual chic is the way to go when you are headed out for a low key afternoon on the town. A sweater poncho can be worn with a pair of jeans, sweatshirt, and your favorite pair of sneakers. This is definitely the ultimate cozy outfit that's ideal for catching an afternoon movie with friends.
If you're going for more of a sophisticated look, try belting your poncho. It adds a stylish element to your outfit and has a nice elongating effect to it.
Trendy chic is always a hit around here. The addition of a floppy hat, ripped jeans, and ankle boots take the sweater poncho to a whole other level. This could possibly be the perfect fall look!
Since ponchos are a hot ticket item this season, you won't have a hard time finding one. In fact, they come in a wide variety of different colors, patterns and styles. To see our picks, click the links below!
Forever 21 Striped Poncho | BP. Paid Poncho | Lulus Cream And Black Poncho
Happy Styling,
{images via: pinterest}